As much as we love working with local businesses and start-ups, it's always gratifying to work with a global brand. Porsche is one of the best-known car manufacturers in the world today. While there's little we can tell them about branding, our skills in video production were of significant use.
We have been working continuously with David and the team since 2014. The quality of service and support is exceptional. I could not recommend Be Bold highly enough. Nothing is too much trouble, they deliver on every project, every time.
Whether we're working with a multinational brand or a small enterprise, we always work to a brief. In this instance we met with the team from Porsche to discuss the video content they wanted from us.
Collaboration with our clients is an essential part of the work we do. While we provide the technical expertise, our clients are the ones who know their business best.
As a creative unit, we can offer tips on how best to present a message, but the final decision always belongs to the customer.
Porsche instructed us to produce a number of digital videos for them. These had a variety of purposes, such as showcasing new car model launches and events.
The videos had different target audiences and we had to adapt our methodology and direction accordingly
These included training videos for Porsche staff and videos that we more customer-facing. Before filming we created full scripts and storyboards, which we ran by the Porsche team.
Whatever business you're in, you need your customers to be able to trust you, but especially in the security industry.
To help instil trust in their clients, we performed a photoshoot over two days.
This included the team going about their day-to-day duties and images of their security services.
This allows us to show the Steelforce Security UK staff as real people, as well as incorporating their new logo.
As well as our live action videos, we were also called upon to produce some animated shorts for Porsche.
Animated videos can be very effective, but also come with their own difficulties. It's a more labour-intensive approach, and opportunities to reshoot are few and far between. For this reason, it is essential that our storyboard phase is as tight as possible.
With corporate employee videos, the subject matter can often be dry, such as with a Compliance animation Porsche had asked for. In these circumstances we strive to present a serious subject matter with a bit of levity. Experience has shown us that in maintains employee attention far better.
Sometimes a simple piece of work ends up expanding into something altogether bigger. Our animated shorts proved popular with the team at Porsche.
Indeed, we were subsequently asked to follow it up with printed materials to be cascaded among their staff.
This comprised a 30-page instructional booklet utilising the content of the animations we had produced. Producing material in different formats presents its own challenges, but this is another example of the end-to-end service provided by Be Bold Studio.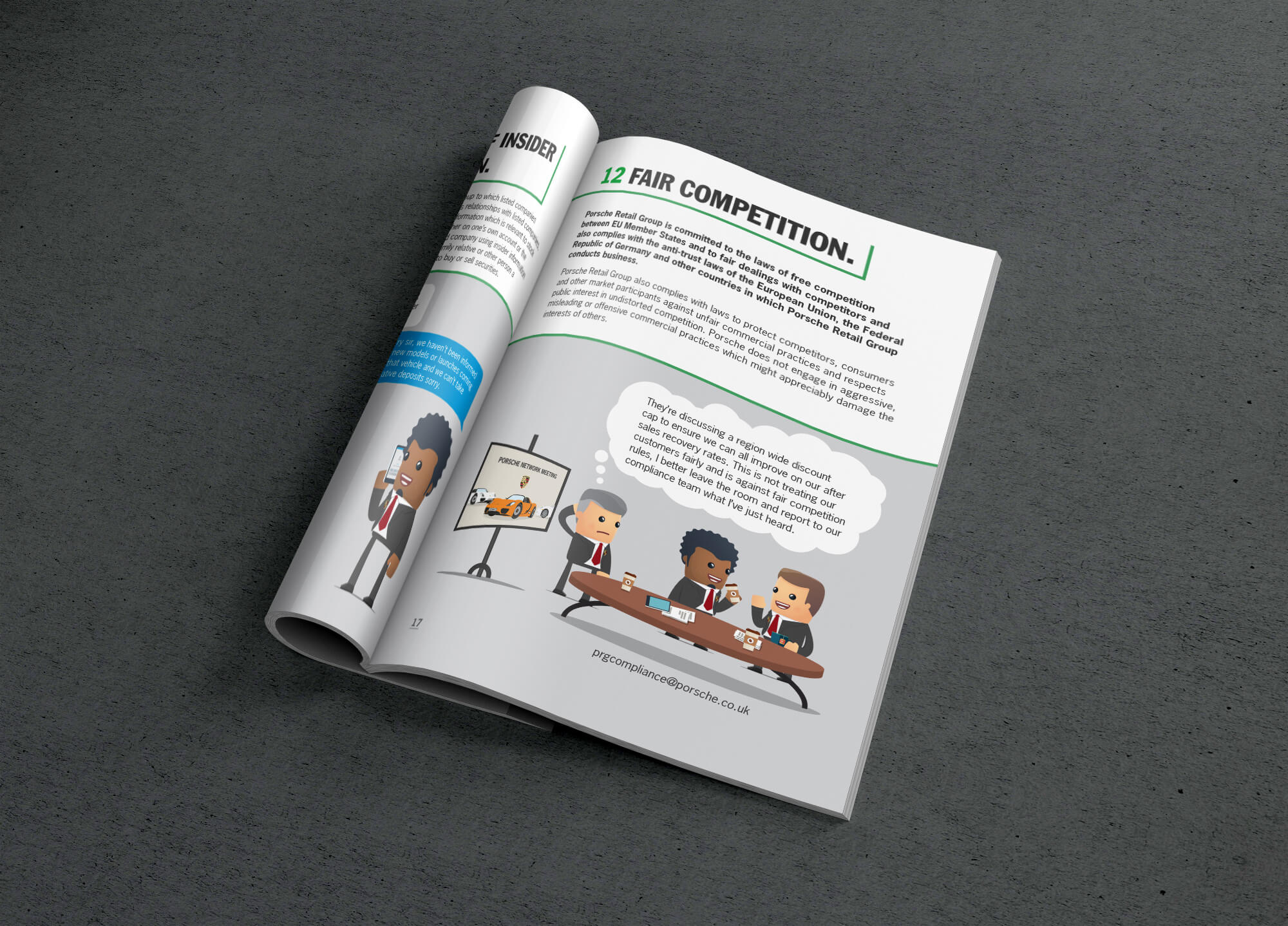 At the moment, we are planning a series of new videos that Steelforce Security UK can stream on their site. These will showcase the range of security services they have on offer.
Why not head over to Steelforce Security UK's new website and see the sterling work we've done? With both a new site and a full rebranding, the company is set to ascend to even greater heights than it has so far.
For more information, or to book a consultation, give Be Bold Studios a call today on 0747 688 7743