Marpol Security are one of the North West's leading security companies, with a client pool that covers the UK. Security is a highly-competitive industry and one that requires a significant online presence for any company.
Understanding this, Marpol Security approached us with a request to revamp their existing website. As part of their package, we also helped them develop an integrated digital marketing strategy.
Be Bold Studios have provided a first-rate, integrated, service that is bringing our online presence up to date. They're responsive and offer a tailored solution to any web requirements. Highly recommended.
Liam Docherty, owner of Marpol Security UK
The old Marpol Security site was pretty bad, uninspiring to look at, slow to load, and awkward to navigate. Worse than that, it was only receiving a handful of site views in any given month which for a company of that size, that's a clear sign of an underachieving website.
We built them a new online presence from the ground up, incorporating stylish new visuals and smooth navigation. The result was a clear improvement, with clients now able to find what they want with the minimum of fuss.
Fresh content is being added to the Marpol site all the time. As the company extends its services and the areas it covers, we are right there with them, writing targeted, optimised text and crafting new web pages that draw in visitors to each new service.
Marpol also benefits from our blogging service. Our experienced and professional copywriters create fresh and relevant content for them on a regular basis. New content is one of the best ways to improve your search engine rankings, while simultaneously providing value to your existing customers.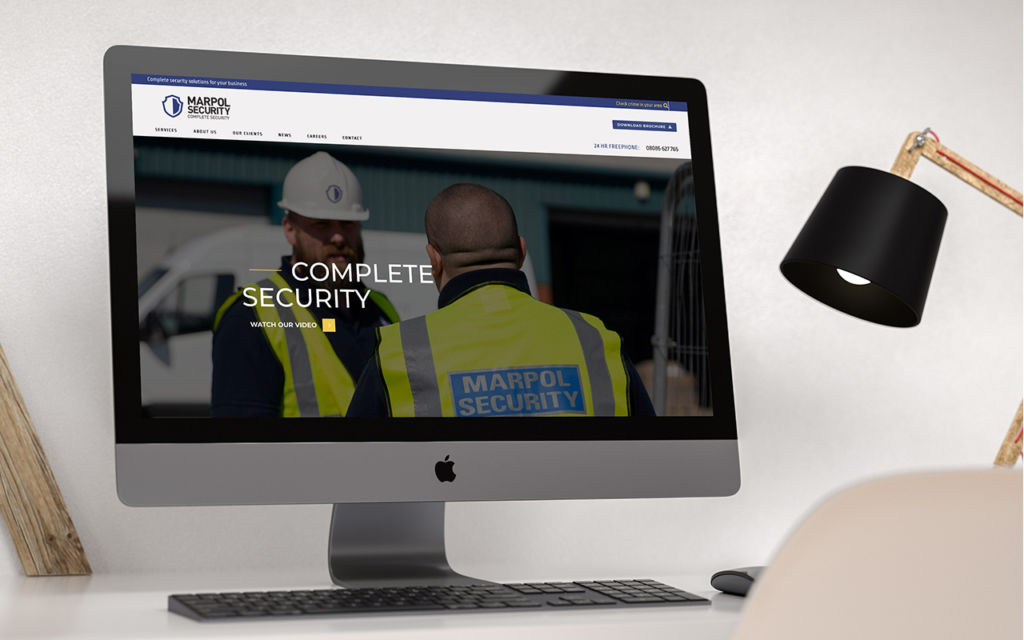 Search engine optimisation
When a company offers multiple services, like Marpol Security, search engine optimisation is essential. We put our top SEO researcher on the case.
The job was to pinpoint key words and phrases to propel the company to the top of the search results. These were then passed over to our copywriter to produce exciting and unique text for the website itself.
This is an important part of web development, as Google and other search engines have started checking for quality.
This means they can tell the difference between automated and bespoke text, as well as between good and bad English.
Website visits increased by more than 9600% in a few months and over 94% of site visits are new users.

Users are remaining on the site for several minutes and interacting with multiple pages, showing a great level of engagement.
Full conversion tracking was implemented. Conversions are actions that are important to your business such as orders, contact form submissions or telephone calls. This enables top management to easily track the effectiveness of the campaign. The website now drives a significant amount of relevant leads, with enquiries at an all-time high.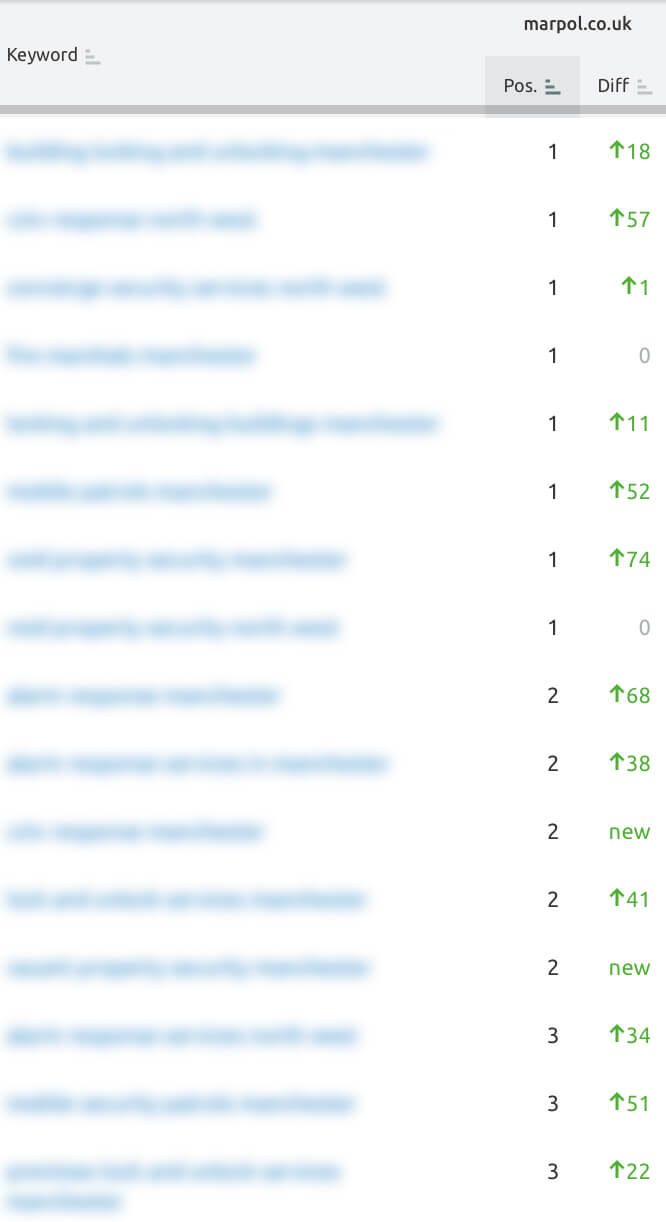 In today's world of social media and streaming content, video footage is the best way to engage with an audience. Marpol Security wanted us to produce some short films – three covering their core services, with another offering a general overview.
We visited their site and got some great shots of their staff, before doing some on location shooting. The results send a powerful message to clients, showcasing Marpol Security as a company that knows what it is doing.
In addition to our video shoot, we arranged a two-day photo shoot to get some high-resolution images of the company's buildings and staff in action.
A good photo shoot takes time to set up. For Marpol themselves, they needed to make sure their office space was tidy, that they had new uniforms, and that their fleet of vehicles was washed and valeted. From our perspective, we needed to keep an eye on the weather for outdoor photos, as well as carefully composing the shots to tell the visual narrative we wanted to deliver.
We took photos of the Marpol staff, their control centre, and some of their security products. To get appropriate images for their service pages, we needed to get their team into natural poses to reflect the service in question. The Marpol team were great at following our cameraman's instructions, understanding how important these images are.
Corporate photographs serve a dual purpose. First, they demonstrate to visitors that they're dealing with real people, which is something that stock photos can't always achieve. Secondly, by focussing on the staff in uniform, the vehicle livery, and the company signage, the brand identity is being reinforced over-and-over.
Even with an impressive online presence like Marpol Security, sometimes a company needs to make use of traditional methods of communication. We were asked to produce a physical brochure for Marpol, summarising their key services for both new and existing clients.
The change in medium required a different tone, which our experienced copywriters were happy to deliver. Our talented design team brought the brochure to life with an effective layout that reflected and reinforced the new company branding from the website.
Oh, and we can sort out the print too 🙂 This one was done on 250gsm stock with a silk finish – we made the front and back slightly heavier at 350gsm for impact and longevity.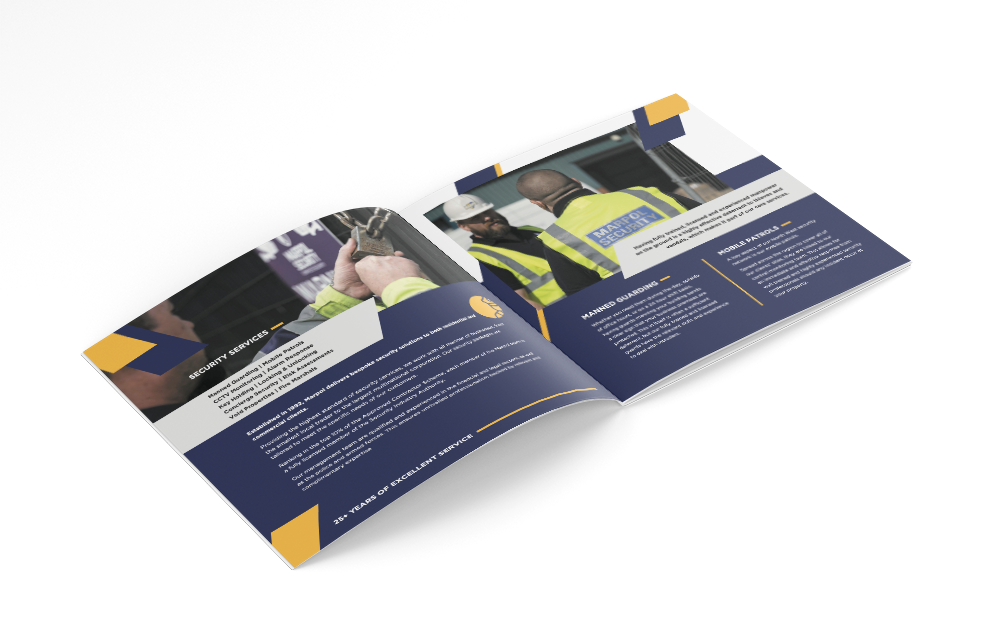 With their website up and running and pulling in a far greater number of views, our job is to keep it that way. Marpol Security are making good use of our monthly SEO maintenance package. This involves monitoring their search engine performance and executing such changes as they need to keep them at the top.
We are also running their Google Ad campaign, incorporating keywords from the site and targeted at specific locations. A final aspect of their package is fresh content. Written by our professional copywriter, these blog entries are fully optimised and ripe for sharing via social media.
For more information, or to book a consultation, give Be Bold Studios a call today on 0747 688 7743