Here at Be Bold Studios, we are keen to offer our clients across the North West the very best in digital services.
Our team is already well-known throughout the region for the quality of our digital photography and videography services.
Now we can take to the skies, providing essential aerial shoots for our North West clients, thanks to our powerful drone technology.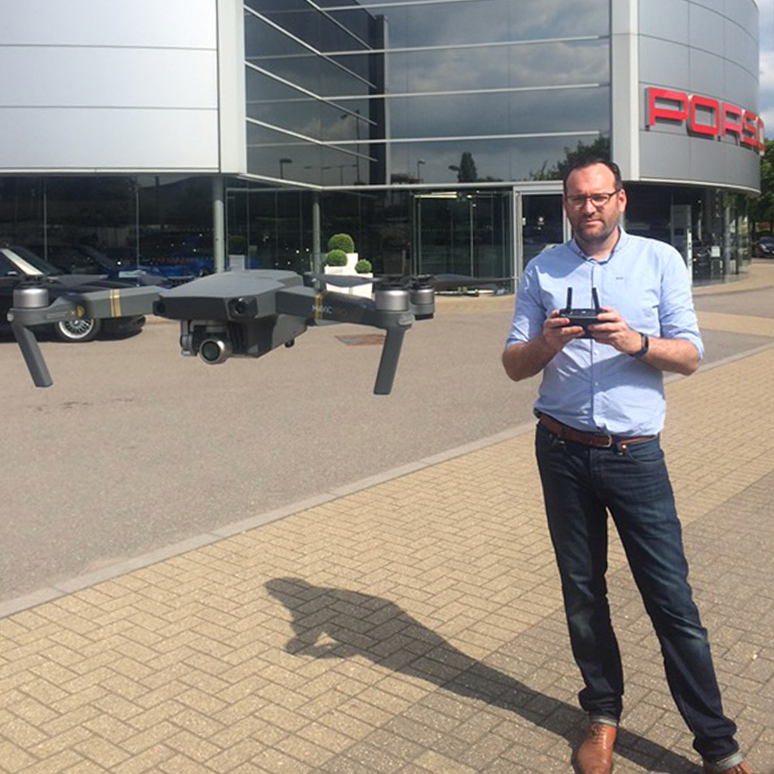 What can Be Bold Studios do for you?

With a state-of-the-art remote drone and a fully-trained and certified pilot on hand, Be Bold Studios have much to offer in the way of drone solutions. Here are some of our most popular services.
High-resolution aerial video
By far the most popular reason people choose our drone services is for aerial video work. Our drone is equipped with a 12.35 megapixel camera and the digital equivalent of a 35mm lens. This allows us to gather crystal clear footage from over 160 feet in the air. Our drone's lightweight design makes it incredibly nimble. This means that, whether you want a slow, sweeping approach shot, or dramatic twists and turns over your event or business, we can make it happen.
The quality of the footage ranges from HD to C4K, depending on your requirements, with a maximum bitrate of 60 Mbps. Whether you're recording for customers, investors, or general promotion, you could not ask for better clarity or quality.
High-resolution photography
Of course, this technology isn't only for video footage. In the hands of our skilled remote pilot, our drone can also take spectacular still photos. The camera is capable of single shots, as well as burst shooting in 3, 5, or 7 frame sets. The 12.35 megapixel camera delivers superb clarity at any height, with the resulting shots suitable for both online use or in your print media.
At Be Bold Studios, our drone of choice is the DJI Mavic Pro. This lightweight device tips the scales at a little over a pound-and-a-half, and measures about a foot across its diagonal. Don't be fooled by its size, however, as this machine is a powerhouse. Capable of speeds up to 40 mph, it can reach altitudes over 160 feet. This allows us to capture truly breath-taking views of even the largest businesses, events, or projects anywhere in the North West. Even at these heights and speeds, the high-resolution camera ensures crisp and clear footage and images.
At Be Bold Studios we have our own pilot on the team. Lisa is fully-certified to remotely fly small unmanned aircraft and small unmanned surveillance aircraft. Under her guidance, our drone is capable of stunning aerial shots. Whether still photographs or video footage, you are assured smooth and artistic imagery suitable for your website or other promotional material.
Here at Be Bold Studios, we are incredibly excited to offer the Mavic Pro Portable Aerial Drone as part of our advanced aerial drone fleet.  All available for photography, video and survey hire in the North-West.
The Mavic Pro is an incredibly portable aerial drone. Small yet powerful, the Mavic is capable of capturing video and photography from angles that until recently were impossible to access.
While it may be small, the Mavic Pro contains a high degree of complexity and is on of DJI's most sophisticated flying aerial drone cameras ever.
If your business could benefit from high-quality aerial camerawork, give Be Bold Studios a call today on 0747 688 7743. A member of our team will be happy to discuss your requirements and arrange a consultation for you.